Lab High Speed Disperser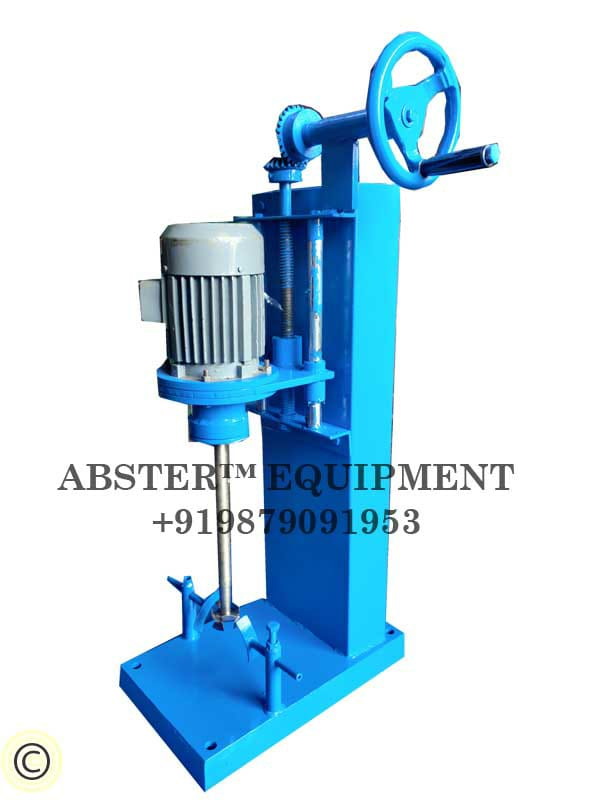 Lab High Speed Disperser is Suitable for Paint, Pigment, Dyestuff, Coating Printing Ink, for mixing, Dispersing, grinding
Best use of Disperser is to dissolve and disperseion of Liquid and Liquid with solids.
Disperser is availabe in Manual or Hydraulic Up and Down Arrangment.
High Speed Dispersion machine has Starting Capacity Ranging from 50 litrer to 1000 liters
Suitable for Putty, Primers, Distempers, Plastic paint, Exterior emulsions & premium wall finishes for Paint, Pigment, Dyestuff, Coating Printing Ink, for mixing, Dispersing, grinding.
The hand-lifting frequency conversion dispersing machine is a new type of product designed according to actual needs. It is mainly used in the pilot test of the production of various paints, coatings, pigments, plastics, food and other liquid slurries. Provide correct data for large-scale production, can also be used for small batch production, the equipment can be dispersed 5L-50L
working principle:
The sawtooth circular dispersing disc of the dispersing machine is dispersed in the container at high speed to complete the process of solid-liquid dispersion, wetting, depolymerization and stabilization. The slurry is rolled into a five-goat flow, which generates a strong vortex. The particles on the surface of the slurry drop spirally to the bottom of the vortex. A turbulent zone is formed at the edge of the dispersion disk at 2.5-5 mm. The slurry and particles are strongly sheared and impacted. With two beams, the slurry is fully circulated and turned over. The disperser has a laminar flow under the dispersion plate. The slurry layers of different flow rates diffuse with each other to play a dispersion role.
Application areas:
Material viscosity: 25000cps
Production capacity: 5L-50L
Application areas: suitable for the dispersion and mixing of products in industries such as biology, medicine, food, paint, ink, adhesives, dyes, pesticides, etc.
Applicable materials: various slurries with material viscosity below 25000cps and solid content below 60%: such as latex paints, industrial paints, water-based inks, pesticides, adhesives and more than a thousand kinds of materials.

High Speed Disperser, High Speed Disperser mixer, Dissolver, Paint High Speed Disperser, dispersion machine